Why fight for small ones in crowded waters when you can go where the real King Salmon are?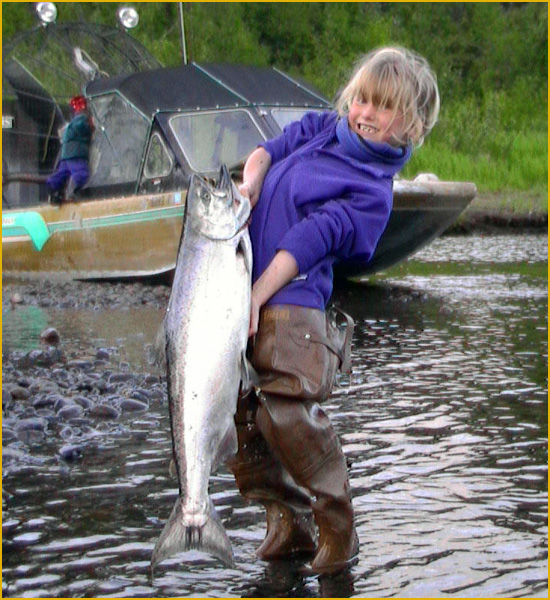 Our Guided trips include the use of G-Loomis rods and the most tantilizing tackle available. It's a good idea to dress in layers and bring a rain coat- Just in case. We will take you to the best place available at the time. Besides the warm clothes all you need to bring is some food and a sense of adventure.
Salmon Runs in the Mat-Su Valley*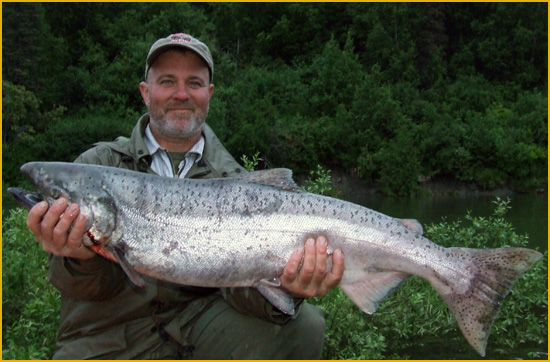 The Kings Salmon (Chinooks) generally run from the end of May to the middle of July.
*Please note that Salmon runs may vary from year to year. Visit the Contact Us page for rates and more information.
Northern Pike
Better known as a fresh water Barracuda! Northern Pike fishing is full of excitement and adrenaline rushes, we use surface lures like imitation frogs and mice for a top water action that is hard to beat, this trip is all day action.
Xtreme Rainbow Fishing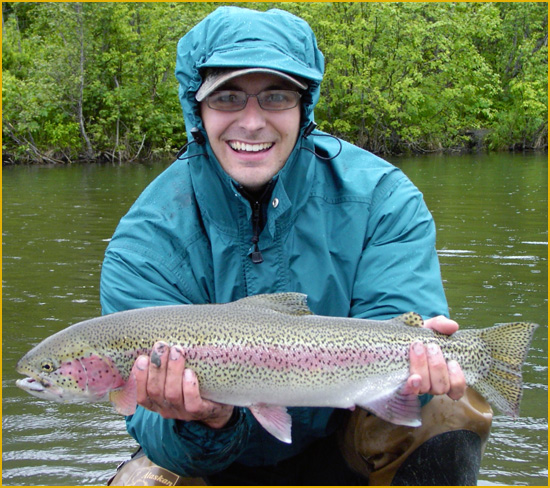 For people who LOVE Rainbow Trout fishing, we have created an Xtreme Rainbow Fishing experience that is sure to reinforce your amazement for these beautiful creatures. We practice catch & release for this coveted species in order to preserve the pristine fishing that we now enjoy. Featured on Larry Csonka's North to Alaska show on the VERSUS Network, Larry said, "That was the fastest four hours of fishing I've ever had". And that was before lunch. For this trip, we fish in the shadow of the Great McKinley.
Multi-Day Trips
If you are more interested in fishing than planning the details of the trip, then come stay with us for a while and we'll take care of it all. We're with you from the time you arrive in Anchorage until the time we drop you off for your return trip or other planned activities.
Multi-day packages include round trip transportation from Achorage, three meals each day, accommodations each night, and full days of fishing excitement. Accommodations include rustic cabins, remote river lodges or other quality places. As locals, we know the best places to go.