An Airboat is one of the most versatile, safe and practical forms of transportation to get around the rivers of Alaska -
The vessels we own are built in Alaska and made to adapt to the often unpredictable water conditions of the rivers in South Central Alaska. Often times the water in the rivers will rise and pick up all kinds of crud that would slow down or stop a jet-boat. No problem for us, however.
We can glide over anything floating in the water with ease. Sometimes the water level drops. This can make it difficult to maneuver for a jet-boat that needs 2 feet of water to get up on step. Again, no problem for us, the more shallow it is, the easier it is to jump up on step and slide through the shallows. Give us an inch or two and we will be off to our favorite fishing hole.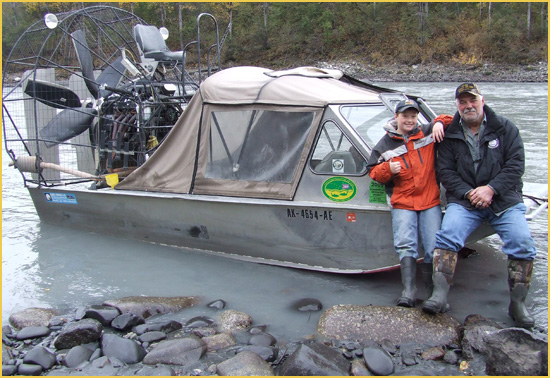 Our Airboats are equipped with the following:
Windshield and canopy to keep you out of the wind and rain
Heaters, in case it is a bit nippy on the ride. Who wants to freeze?
Chevy marine motors. Does reliability mean anything in the wilderness?
Top of the line fishing equipment, G-Loomis rods
Coast Guard approved safety gear.
New Noise Reducing Counter Rotator which allows two sets of props, turning opposite directions.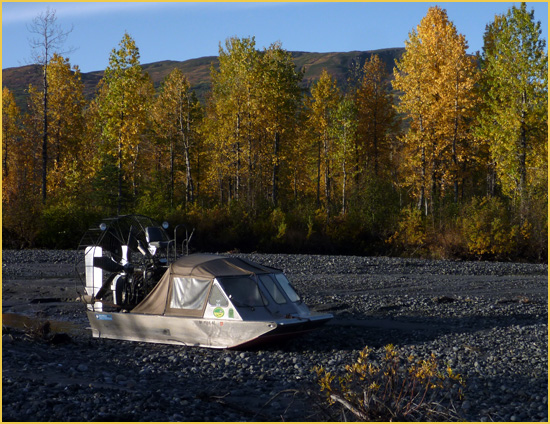 Visit the Contact Us page for rates and more information.